We were thrilled to have been the FIRST BOOKSHOP to get worldwide publicity in 2000 for fulfilling orders for National Book Tokens, dispatched on the next day freepost and purchased securely via the internet, exclusively by us at that time. Today our freephone UK service remains unmatched by any other company, although several are trying to compete they are all falling short of what we offer. Alternative websites have restricted choices of free book token designs or limited loading values for each card. Nobody other than us, offers free Royal Mail Special Delivery (minimum order value applies): TESTIMONIALS
The Times London: August 16, 2000. Wednesday Web World Feature. " www.firstbookshop.com This enterprising Bookshop has gone online to provide Book Tokens - seemingly an Internet first. The tokens can be exchanged at over 3,000 bookshops in Britain and Ireland "
Book Tokens were launched in 1932 becoming the original book gift vouchers, but we were the very first to sell and redeem these online.
Plus we launched on Monday 10th July 2017 the Theatre Tokens Gift Card, replacing traditional paper theatre vouchers:
.....this is how the new gift card looks!
To help reduce our company carbon footprint, the webhosting we use to get our bookshop online, operates with 100% wind turbine power
Follow us and Book Tokens on TWITTER
CLICK HERE see the best range of free Book Token Gift Cards.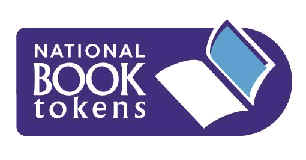 JOIN OUR HAPPY BAND OF CUSTOMERS & SUPPORT AN INDEPENDENT UK BOOKSELLER FOR 2018

Send gift tokens to friends & family in England, Scotland, Wales & all Ireland, free delivery.
CLICK HERE TO BUY GIFT TOKENS and CLICK HERE TO REDEEM BOOK TOKENS
National Book Tokens and Nationwide Theatre Tokens are the most cost effective way to send a gift to the UK from abroad. They are also ideal corporate gift cards. Delivery can be made direct from any address in the world, to any address in the British Isles, with free presentation packaging and handwritten dedication if required, currently dispatched on the next day NO FEES
For global deliveries, outside UK & Ireland: we make a charge of 5 GB pounds to send your gift card order overseas insured and guaranteed, this means we are now able to send cards throughout the world, with secure shipping charged to you below cost - most other Book & Theatre Token retailers are unable to do this. To choose that option please enter the code 005 in the 'additional requests' box which can be found near the bottom of our secure ordering form

MAKE SURE YOU CHECK OUT THIS PAGE REGULARLY:
FOR ALL OUR LATEST COMPANY NEWS - IN CONJUNCTION WITH:
THE TOKEN HOUSE PARTNERSHIP
ALTERNATIVELY CALL
FIRST BOOKSHOP
0800 6125350